Op 30 april vindt de finale van de Dutch Student League plaats in Esports Space GLR Rotterdam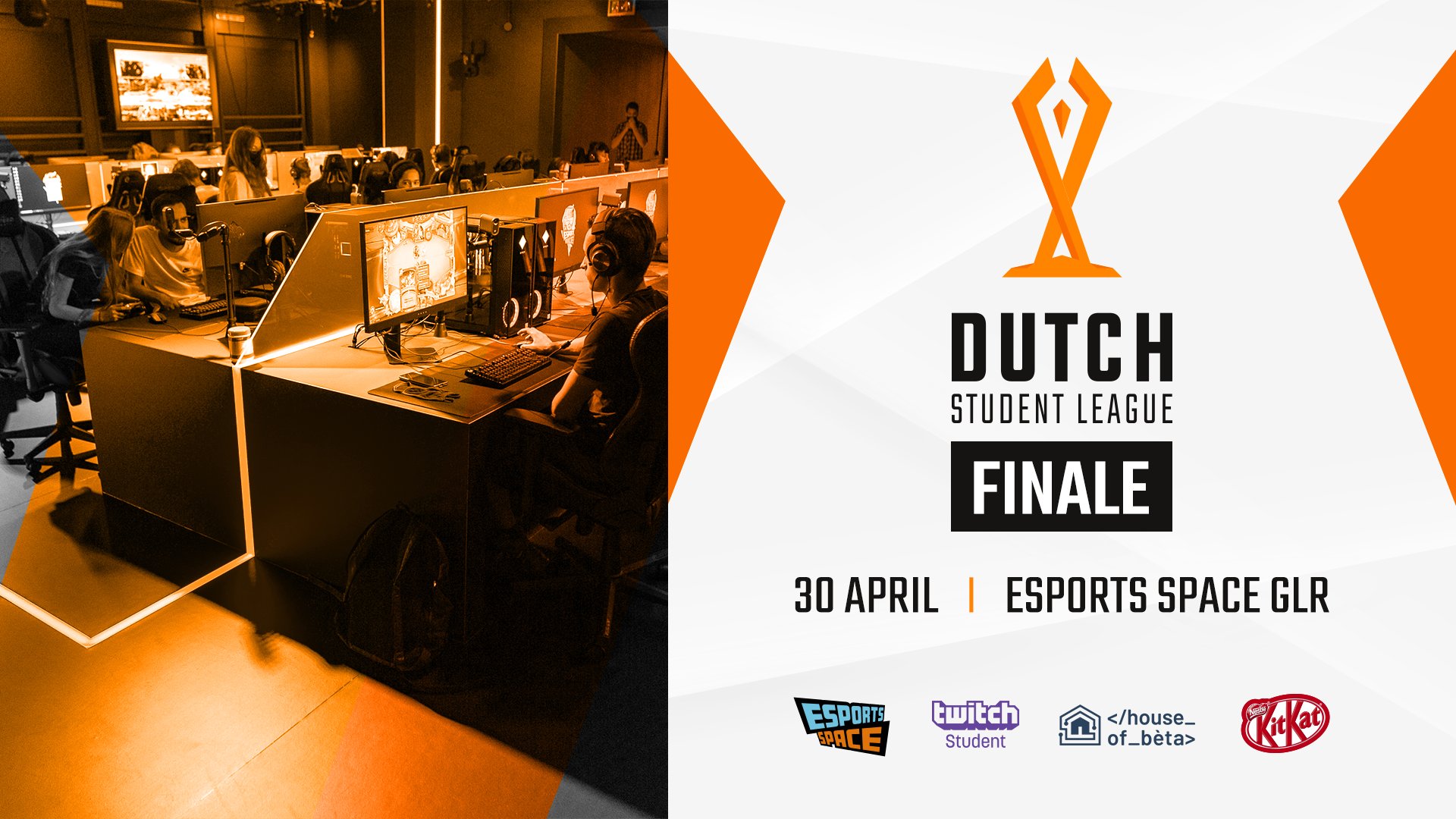 Het eerste seizoen van de Dutch Student League loopt op zijn einde en de finalisten zijn bijna bekend. Erasmus Eagles en TSEA Link (Rocket League) en Esports Team Twente en Erasmus Esports (League of Legends) maken zich alvast klaar om nog een keer de degens te kruisen. En jij kan er bij zijn tijdens de grote finale op 30 april in Esports Space GLR in Rotterdam!
De vier finalisten hebben een lange weg afgelegd om zich te plaatsen voor de finale en kunnen op 30 april een gooi doen naar eeuwige roem en zich kronen als de allereerste kampioenen van de Dutch Student League. 
Wat? Waar? Wanneer? 
• 30 april

2022

• Esports Space GLR

in Rotterdam

• Vanaf 12.30 uur openen de deuren (gratis entree)
• Een gecombineerde prijzenpot van

€7.000 

 



• Heel veel

 hapjes, drankjes en entertainment

 

• Eén en al gezelligheid!

 
Finale? Waar!?
Op 30 april wordt de finale van de Dutch Student League gehost in de Esports Space van het Grafisch Lyceum in Rotterdam. Deze state-of-the-art esports-locatie huisvest alle facetten om esports op de best mogelijke manier in beeld te brengen. Oftewel, de shouts gaan gecast worden, het drama spat van je beeldscherm en de plays vliegen je om de oren! Daar moet je bij zijn! 
Kan je niet aanwezig zijn op 30 april? Geen paniek. De finales worden namelijk live uitgezonden via het Twitchkanaal van Esportsprime, dus onder het genot van een bak chips en een drankje kan je de spanning ook vanachter je monitor of tv meemaken. 
Wat kunnen we allemaal doen?
Uiteraard kan je op 30 april genieten van de spannende finales tussen de beste studententeams die ons land te bieden heeft in Rocket League en League of Legends. Dat is natuurlijk al reden genoeg om naar Rotterdam te komen! De vier overgebleven teams strijden namelijk voor een totale prijzenpot van maar liefst  €7.000! 
Daarnaast zorgen we nog voor heel wat extra plezier, want er zal in de Esports Space genoeg te doen zijn op het gebied van gaming. Om zelf te gamen, andere activiteiten rondom gaming te ervaren of gewoon om lekker een hapje en een drankje te doen ben je helemaal welkom! Check in de video hieronder maar eens hoe onze Zuiderburen het de afgelopen jaren deden. Dat kunnen wij natuurlijk een stuk beter, maar you get the idea 😉. 
Kortom, dit wordt een dagje volop genieten van gaming. Join the party op 30 april! Tot dan!