De start van het derde seizoen van the Dutch Student League!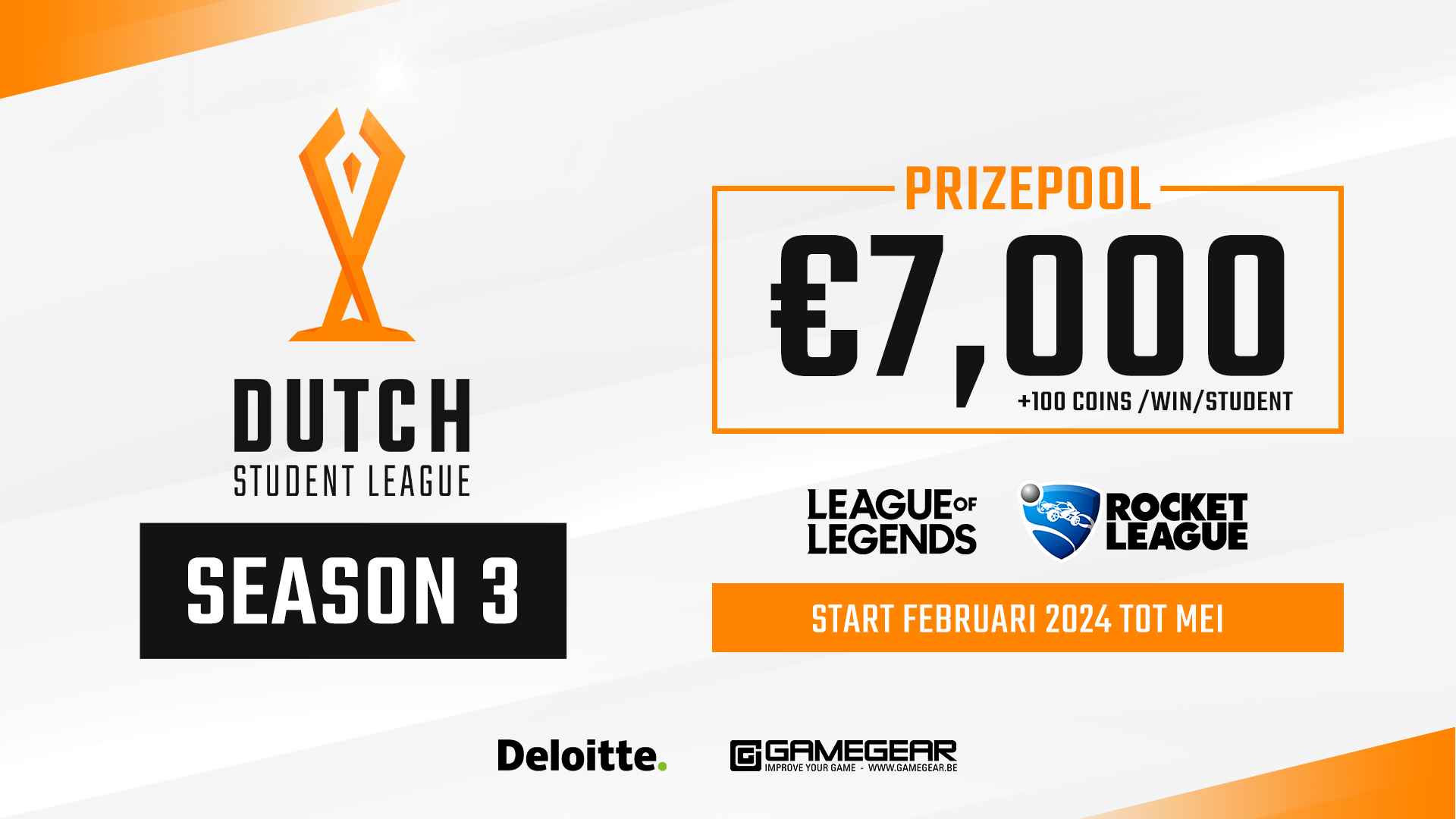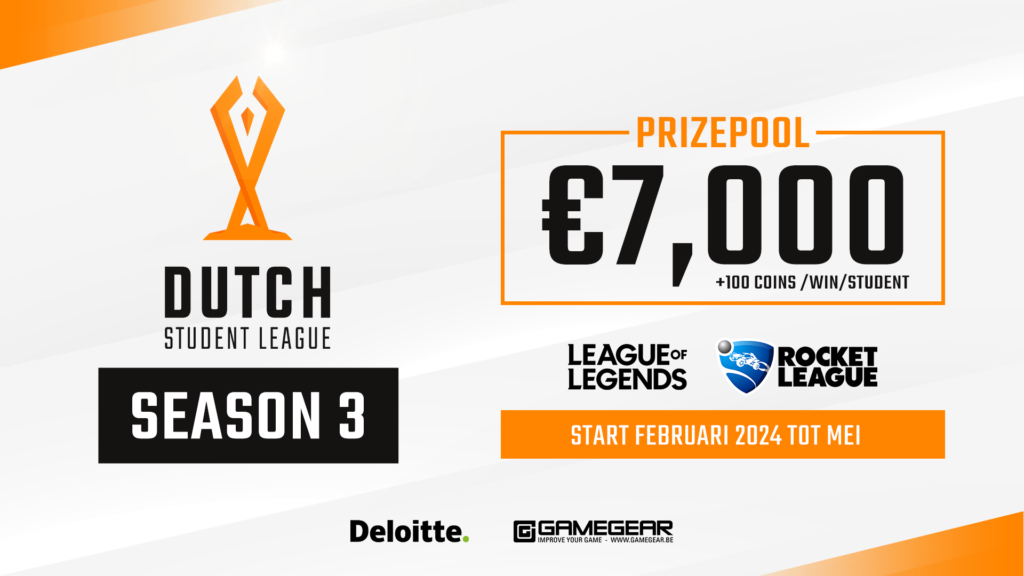 Het derde seizoen van de Dutch Student League gaat binnenkort van start, en we hebben veel leuks gepland! In februari begint de hoofdcompetitie met League of Legends en Rocket League, waar de beste studententeams het tegen elkaar zullen opnemen. De Tournament Series is al van start gegaan en bevat allerlei verschillende games, zodat iedereen kan meedoen. Dit zorgt voor een meer ontspannen sfeer. En vergeet de Student Events zeker niet, kom ons zeker eens bezoeken op verschillende events die plaatsvinden in Nederland.
De Dutch Student League bestaat zoals gezegd uit drie grote onderdelen: 
De Dutch Student League is de belangrijkste competitie voor teams van hogescholen en universiteiten in Nederland. Ze strijden in de games Rocket League en League of Legends voor een prijzenpot van
€2.000
en
€5.000. 
Het seizoen loopt van februari tot mei/juni, met een offline finale waar je oog in oog komt te staan met je tegenstanders. Voor elke overwinning ontvang je
100 college coins
voor de 
Marketplace.
In het kort: 
• Hoofdcompetitie 
• League of Legends & Rocket League 
• Februari t/m mei 
• 100 College Coins per win 
Dutch Student League Season 2
Bij League of Legends was er geen verrassing. 
Esports Team Twente
 deed het goed gedurende het hele seizoen. Hoewel de finale soms spannend was, wisten ze zich telkens te herpakken. In Rocket League ging 
Avans Hogeschool
 er met de overwinning vandoor, ondanks het verlies in het crossover-evenement tussen de DSL en de Academy League.
Tournament Series (€8.000 prijzenpot)
In de Tournament Series draait alles om plezier, en daar ligt onze focus. Verschillende games komen aan bod, zodat er voor iedereen iets te beleven valt. Deelname is niet voor niets; elk toernooi heeft zijn eigen hoofdprijs. Hoe meer studenten meedoen voor jouw vereniging, hoe meer punten je vereniging verdient voor de Tournament Series-ranking. Aan het einde van de Spring Split en Fall Split wordt het team met de meeste punten beloond met een aantrekkelijke geldprijs uit de totale prijzenpot van €8.000!  
In het kort: 
• Aparte toernooien 
• Variëteit aan games 
• Fall Split en Spring Split 
• Hoe meer je speelt, hoe meer punten je vereniging verdient 
• Ieder toernooi een aparte prijs 
In de Fall Split 2022 wist E.S.E.V. Zephyr de overwinning thuis te halen, hiermee brachten zij een 800 euro mee binnen! De Spring Split was wel een ander verhaal, want daar wist Blue Shell wel raad mee. Zij gingen er helemaal voor en namen 1.200 euro mee naar huis!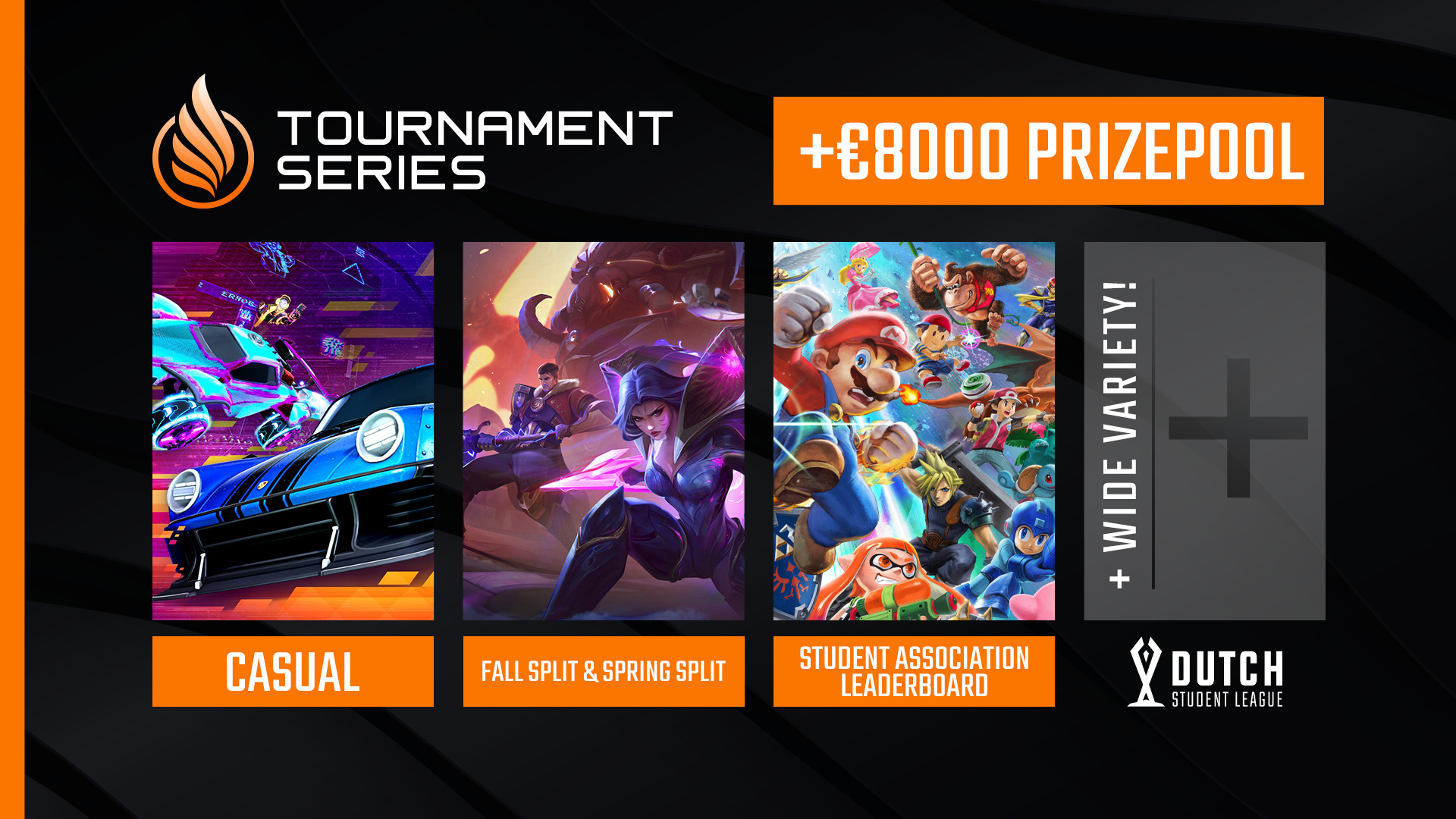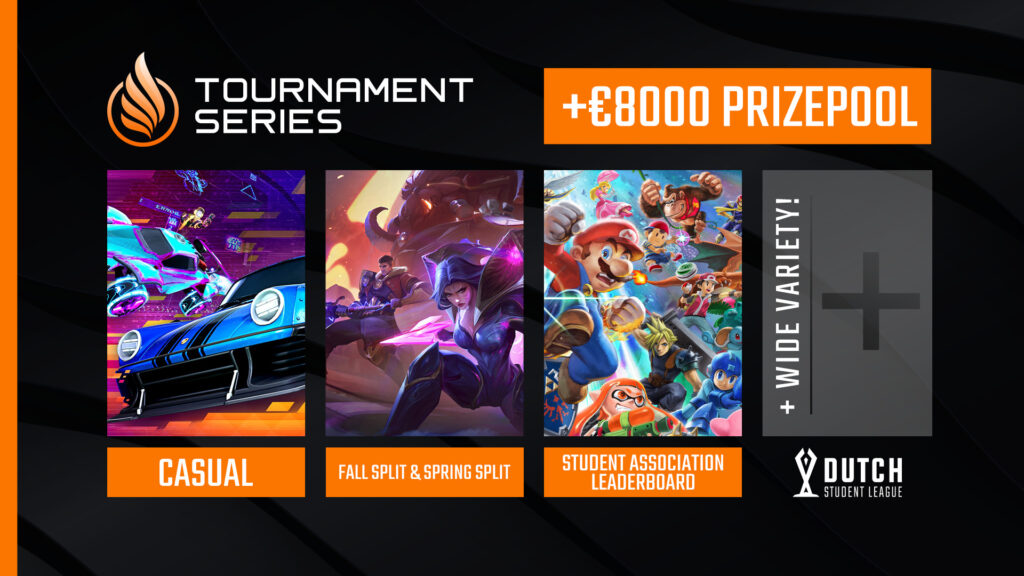 Student Events 
Naast onze competities en toernooien ondersteunen we ook bij het opzetten van evenementen, zoals LAN-parties, online toernooien en meer. Als vereniging kun je bij ons aankloppen met je ideeën, en wij helpen met faciliteiten, inclusief apparatuur en prijzen. DSL is er niet alleen om zelf evenementen te organiseren, maar ook om jouw vereniging daarbij te assisteren.
In het kort: 
• Uiteenlopende activiteiten (LAN-party, Escape Room, borrels, etc.) 
• Jullie bedenken, wij faciliteren 
• Wij helpen bij het opzetten van jouw evenement
Vorig seizoen hebben we hulp geboden aan Zephyr x Blueshell LAN, Showmatch Esports Team Twente, TesLAN, en nog veel meer! Hier zijn een aantal foto's ervan.