Dutch Student League brengt + €15.000 mee als prijzenpot
Hallo mede gamers en welkom bij de Dutch Student League! 
Dit artikel is eigenlijk een kleine inleiding voor wat we allemaal doen, zodat jullie precies weten waar jullie je aan gaan kunnen verwachten dit jaar. De DSL bestaat namelijk uit 3 grote pijlers: De Dutch Student League, de Tournament Series en Student Events.  Deze leggen we in dit artikel graag even kort uit.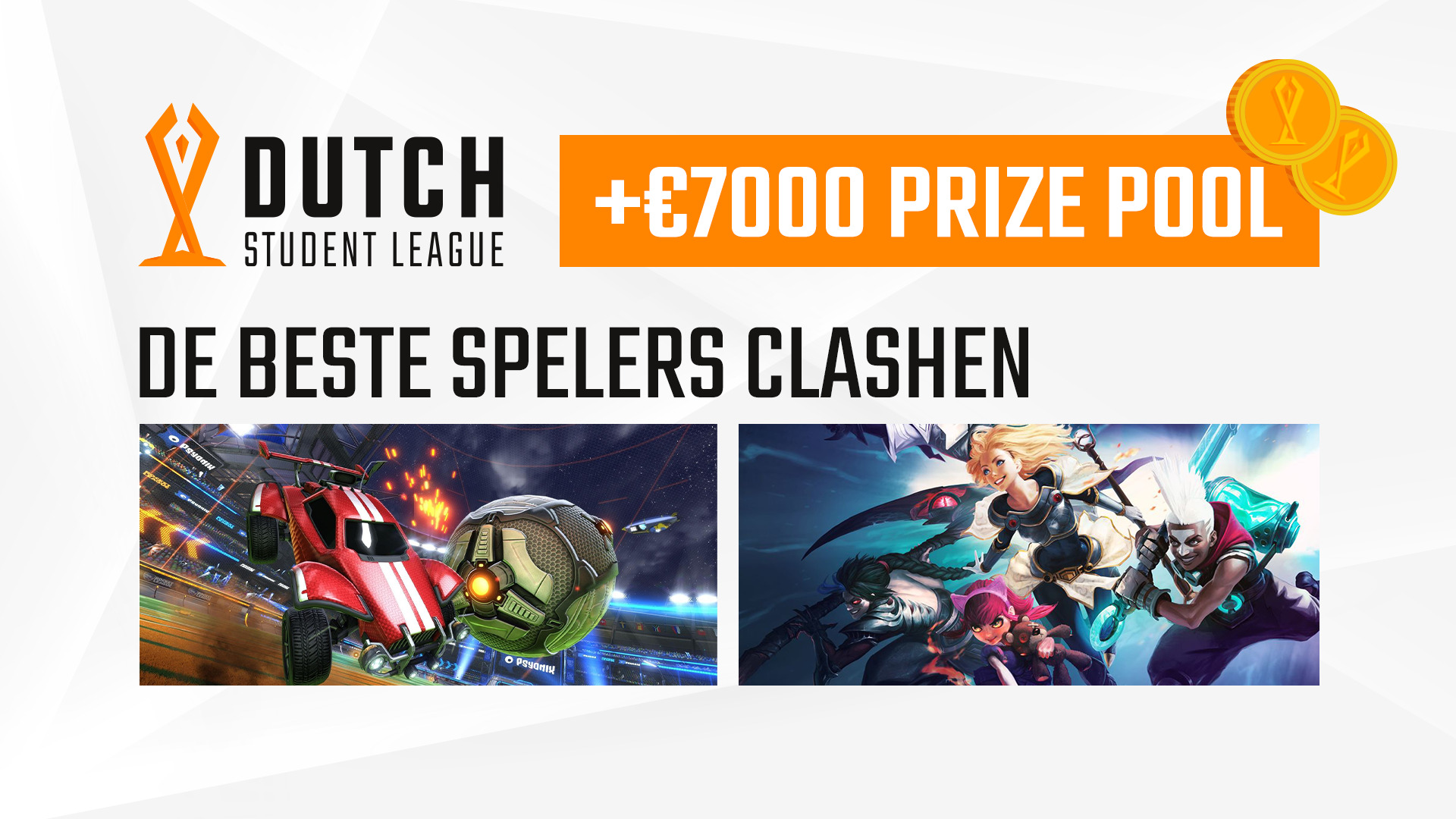 Dutch Student League – €7000 prijzenpot
De topcompetitie waar de beste teams het tegen elkaar gaan opnemen. De beste gamende studenten zullen het uitvechten in League of Legends en Rocket League. Bij iedere game hoort natuurlijk een mooie prijzenpot. Dit jaar is er in totaal €5000 voorzien voor League of Legends, €2000 voor Rocket League. Dat is dus een gigantische prijzenpot van €7000! Voor je hier kans op maakt, moet je jezelf natuurlijk wel eerst bewijzen. 
De verschillende deelnemende scholen nemen het tegen elkaar op van februari tot en met mei. De finale zal doorgaan op een live event met publiek. Elke wedstrijd is belangrijk, want voor iedere overwinning krijgt iedere speler 100 college coins om te spenderen in de marktplaats. Doorheen het schooljaar zullen hier producten toegevoegd worden en je zal op verschillende manieren college coins kunnen verdienen. 
De Dutch Student League is ook een hulpmiddel om op het echte internationale podium te geraken. Teams kunnen zich namelijk kwalificeren voor de UEMasters van League of Legends en de UNIRocketeers voor Rocket League. Meer info omtrent deze kwalificaties komt later.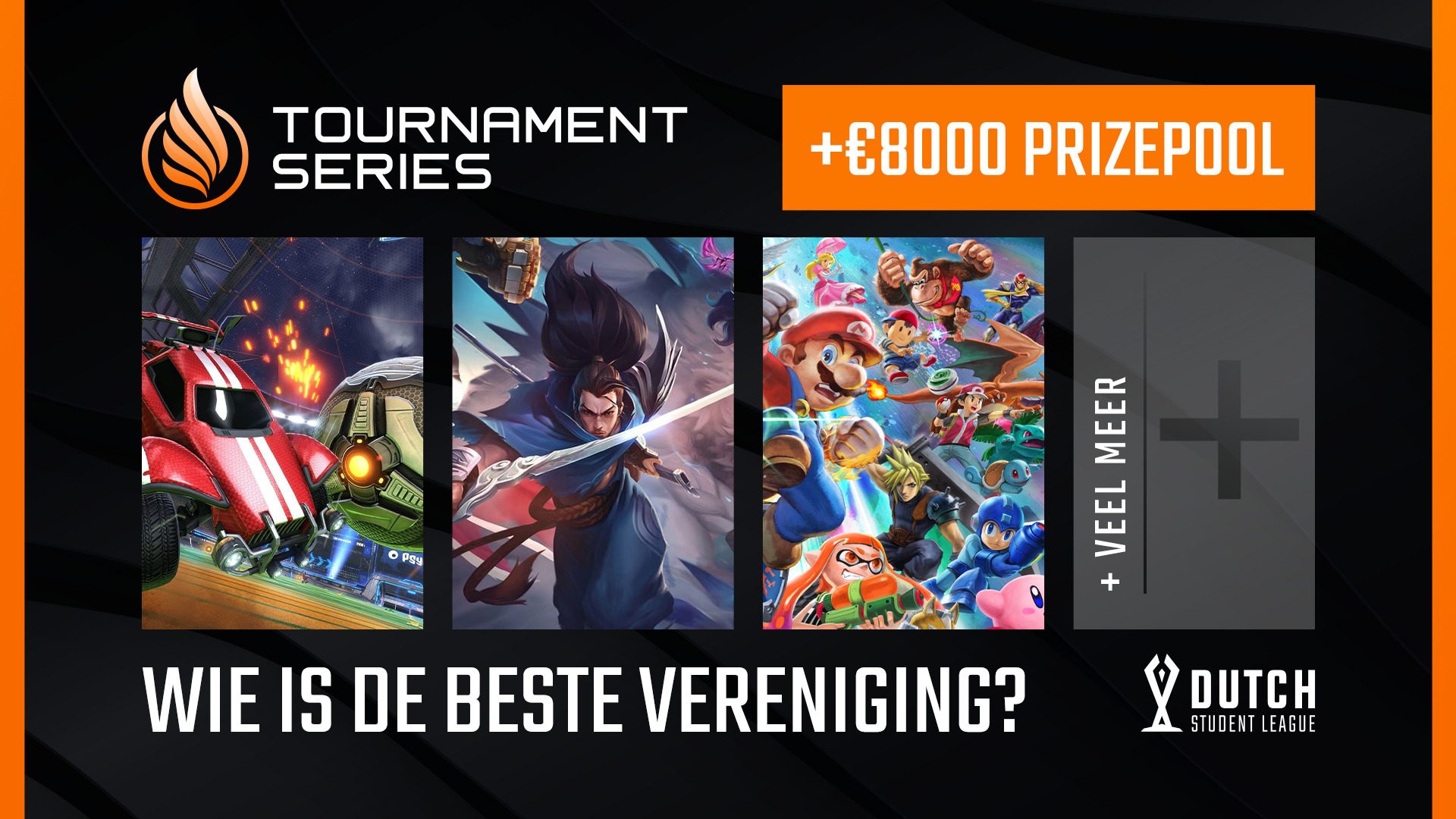 Tournament Series – €8000 prijzenpot
De Tournament series zijn een reeks van toernooien in samenwerking met onze partners in verschillende soorten games. Dit kan gaan van Rocket League, Super Smash Bros. Ultimate, League of Legends tot zelfs Tetris, met minstens €3000 aan prijzen. Elke student kan meedoen en prijzen winnen. Niet enkel zal de student zelf beloond worden, maar hij of zij zal ook punten voor zijn of haar studentenvereniging scoren door zo hoog mogelijk te eindigen in een toernooi en ook simpelweg door deel te nemen. Hoe meer studenten de verenigingen oproepen, hoe meer kans dat ze maken op de totale prijzenpot van €8000! 
Ten eerste hebben we de Fall split die loopt tot midden december waarna we €2000 aan prijzengeld verdelen over de beste en meest actieve verenigingen. Hierna begint de Spring split. Deze duurt tot midden mei en hier wordt op het einde €3000 verdeeld.
Er valt dus zeer veel te verdienen bij het eerste seizoen van de Dutch Student League.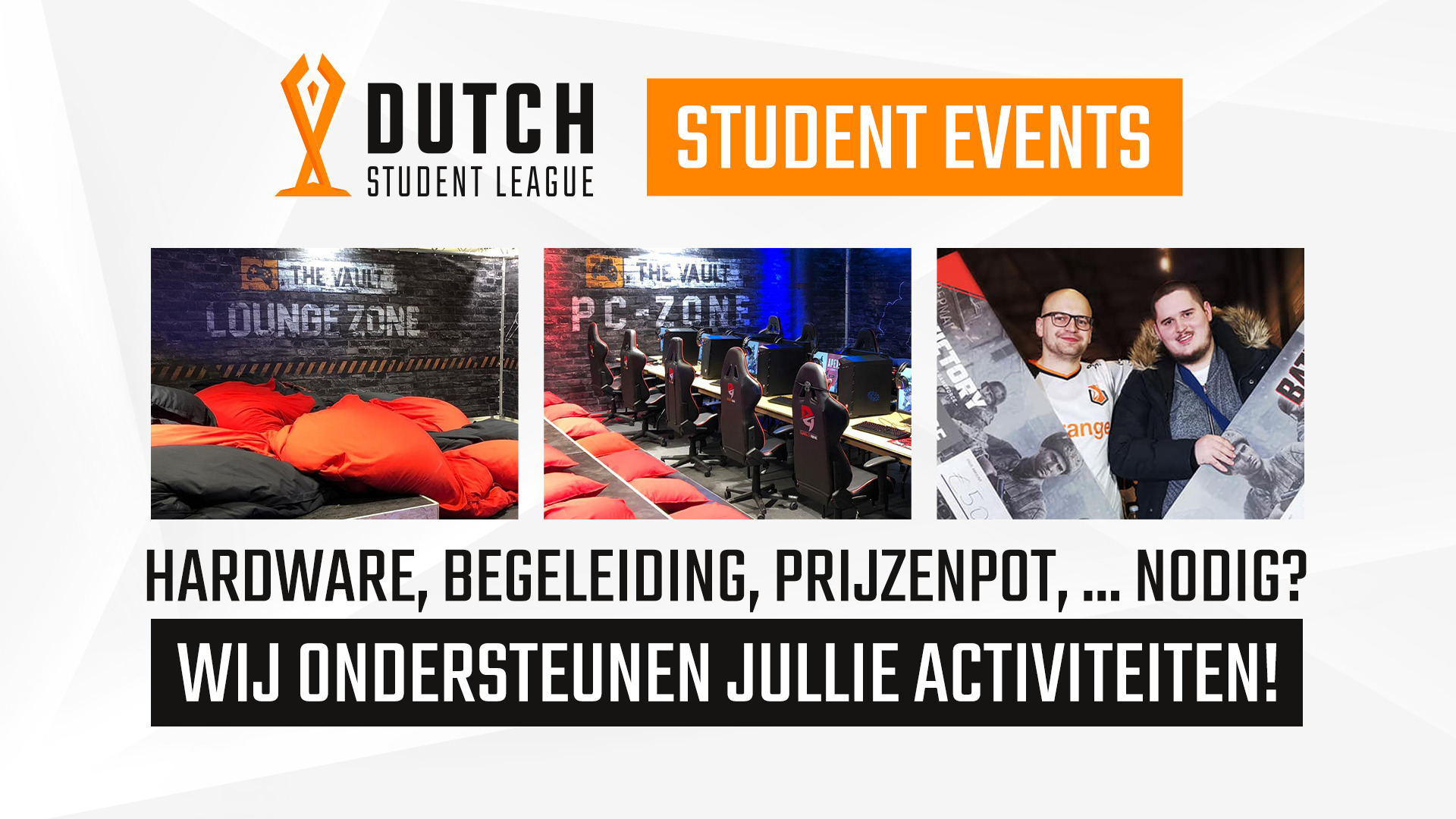 De 'student events' zijn misschien wel onze belangrijkste pijler. De esportsindustrie is enorm aan het groeien en we willen een platform zijn dat studenten helpt om hun eerste stappen in deze industrie te zetten. Wil jij of jouw vereniging een activiteit doen omtrent gaming en esports? Een LAN-party, online toernooi, viewparty, … Wij helpen je verder! 
De mensen achter DSL hebben ruime ervaring in het organiseren van esportsgerelateerde evenementen met tot wel 16.000 bezoekers. DSL is bereid om studenten-organisatoren te begeleiden bij het opzetten van hun eigen evenementen. 
Zo, dat is wat de Dutch Student League voor je kan doen!
Contacteer ons via info@dutchstudentleague.nl voor verdere informatie en vragen. 
GLHF
The Dutch Student League Team